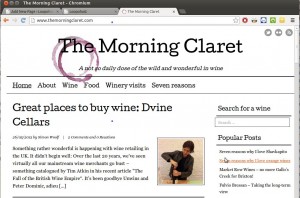 We love WordPress for blogging – so much that we'll install the latest version, for free, on your hosting package when you sign up. Just ask!
You don't need any technical expertise to get started. Just select our wordpress package and you can be up and running in minutes.
That's not to say there aren't other good platforms out there – Tumblr is great if you want a quick and dirty photoblogging platform that works well from your phone. But WordPress is hard to beat for usability and speed.
Loopo host's founder Simon Woolf hosts his own blog "The Morning Claret" (warning: it's about wine!) right here